Centennial's Prevention Services are creative, innovative ways of increasing awareness about behavioral health, building communities of support and promoting life and wellness skills. These services are comprised of a variety of already existing programs as well as introducing time limited services with theme based education and prevention specific to physical and mental health well-being.
Early Prevention
Early Childhood Mental Health Consultation for children age 0-5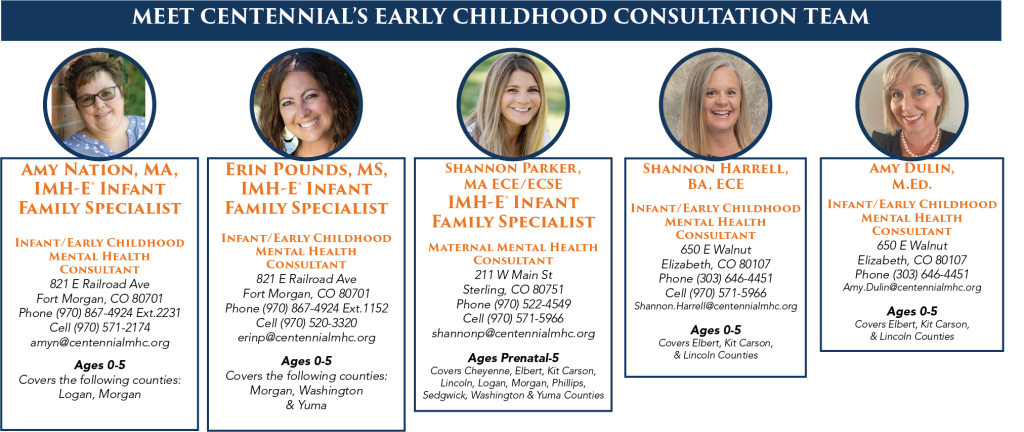 View The Early Childhood Mental Health Consultation Team's Newsletters Below:
2023 Newsletters:
Older Newsletters:
Talking Positively with your Child
Teaching Kindness to Young Children
ECMH support through COVID-19 - Helping you and your children
Promoting Positive Relationships with Children
Children's Mental Health Awareness Day
Healthy Attachment and Caregiver Mental Health
Mindfulness with Mother Nature
Self Care: What is it? And why do we need it?
Separation anxiety, what can YOU do?
Thanksgiving Is All About Gratitude
Your Presence Is No Longer Present
Managing Stress During the Holiday Season
Don't Sweat or Solve It - Just Listen
Autism Spectrum Disorders in Young Children
What is this thing called trauma?
Talking Positively with your Child 2021
The Unsung Heroes In Their Lives
Communication Connections with Children
What to say when your child is Bored
Reboot, Rethink and Let Us Not Overreact
Children Have Not Change - Childhood Has
Promoting Positive Relationships with Children
Postpartum Depression, Anxiety and Mood Disorders
Summer Homework for Parents & Time-Ins
July 2022 Outside the Box Calendar
Parents and Teachers are Partners
What Children Learn Through Play
The following are listed on SAMHSA's National Registry of Evidence-Based Programs and Practices and will be utilized in this program.
Mental Health/Suicide Prevention
Curious what the Prevention Team offers for Spring of 2022? | Spring 2022 Offerings
View the Prevention Team's Newsletters Below:
Stay Motivated and Progressive | April 2020
Let's Break the Stigma | May 2020
How Are You Spending Your Time? | June 2020
Learn How to Help Others | July 2020
Back to School and How to Help Our Youth | August 2020
Suicide Awareness Month | September 2020
Healing and Growing Through Trauma | October 2020
How Meditation Can Help | January 2021
Alcohol Awareness | April 2021
Thank You For Your Service | May 2021
How are you with Pronouns? | June 2021
 It's Time to Mindfully Manage | August 2021
Suicide Prevention Lies Upstream | September 2021
Taking a Dive Into Development | October 2021
Give the Gift of Empathy | November & December 2021
Where is Your Brain Living | January 2022
Mental Health Awareness Month | May 2022
National Minority Mental Health Awareness Month| July 2022
September 2022 | World Suicide Prevention Day